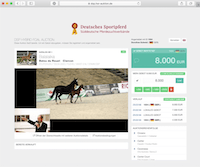 The HSR hybrid auction system is a web-based online auction system in which registered bidders bid remotely in real-time in a live, physical auction. The auction proceedings are streamed online using a virtually latency-free video stream (latency below 0.8 seconds). Registered bidders can simultaneously view both the horse being auctioned and the auctioneer.
The interface displays the current auction lot including key information, the order of sale, previous winning bids, and the current highest bid in real time.
Bidders can submit their online bids via an integrated bidding window. The auctioneer sees these incoming bids in real time on a control panel on his podium. He can thus integrate bids received through the system and those made by physically present bidders in the live action.
Bidder registration follows the principles of double encryption and fulfils European data protection requirements. Only the auction organiser has access to bidder data and registration- and purchase confirmations sent out by the system.
We have developed the HSR hybrid auction system in-house and can therefore implement any desired changes quickly and easily.
The integration of the auction system on the organiser's existing website is part of the standard offering.